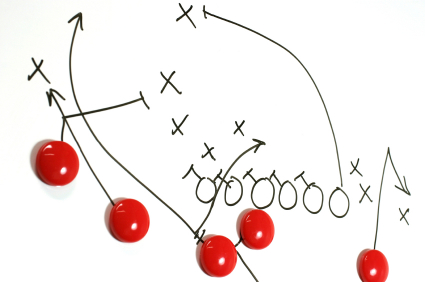 Although it is discussed less frequently, services are subject to the same laws of competition and commoditization as manufactured products. They therefore equally need innovation in order to maintain competitiveness and support growth. One additional goal of service innovation which is less prominent for manufactured products is to increase customer loyalty and to intensify customer relationships.
Three useful strategies for innovating an existing service are to increase its Breadth, Quality or Depth.
Breadth
Meaning: Increase the scope of the service to include new offers. This could mean bidding for a service that the customer currently buys elsewhere or taking over a process that the customer currently carries out themselves.
Questions: What are our customer's secondary processes? What are our customer's needs before, during or after our service?
Example: A Logistics company adds storage and insurance to their basic service of transporting goods.
Quality
Meaning: Increase the value of the existing service by improving the attributes of the service that are critical for the customer. These could, for example, be reliability, speed or flexibility.
Questions: What attributes of our service are most important to our customer? How can we improve these attributes in a way that adds value for our customer?
Example: A Logistics company introduces guaranteed overnight deliveries or online tracking of a package.
Depth
Meaning: Extend the service downstream in the value chain. This means taking over an activity that the customer currently executes themselves. This activity is typically viewed by the customer as having to be in-house, but in fact does not constitute one of their core competencies.
Questions: How does our customer use our service as part of their own offer? What are our customer's core competencies? How could we extend our service to take over activities in its value chain thus allowing our customer to concentrate on their core competencies?
Example: A Logistics company provides a complete fulfilment service for proprietors of online stores, including storing of goods, order fulfilment and handling returns and enquires.
As always, the success of these approaches in an innovation workshop is execution-dependent; the choice and formulation of the questions used determine the ease and effectiveness of the idea generation.
___________________

Post Scriptum
Our blog Impulse für Innovation is generally written in the German language. We do this for the benefit of our clients, partners and local media. However, on occasions, we will write a piece in English for the benefit of an international audience.
Unseren Kunden, Partnern und den lokalen Medien zuliebe enthält unser Blog Impulse für Innovation normalerweise deutschsprachige Beiträge. Allerdings schreiben wir gelegentlich auch auf englisch, um auch ein internationales Publikum zu erreichen.